Sony Ericsson is making a big announcement on the 9th of December in France. We Expect from the below invite that Sony will be showcasing their first PSP phone.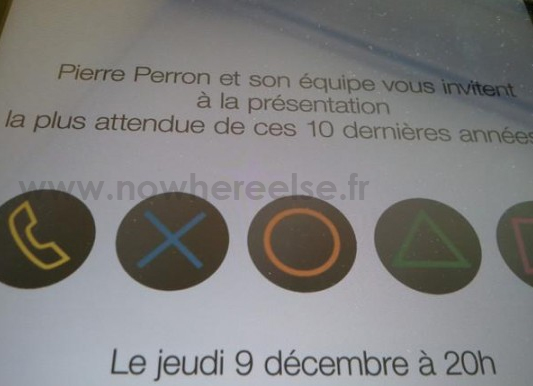 French website, "nowhere else" has issued an image of an invite from Sony Ericsson and as you can see it has the Playstation trademark controller buttons combined with a new phone icon. This seems to all but confirm that a PSP phone is ready for market release. It's believed that the handset will run android and combine both the Xperia and PSP brands into one mobile gaming device.
When Sony added their Walkman brand to the Sony Ericsson range back in 2005 it became an instant hit. Although the W800i didn't include any improved functionality to it's older sibling the K750i, it was instantly more successful thanks to the walkman branding which opened consumers eyes to the oppertunites of using their phone as a music device.
The same was attempted with Sony Ericsson's first 3.2 mega pixel camera phone the K800i. This was the first handset to carry the famous cybershot brand. Although the handset was a success the cross branding  didn't see the same boom as their walkman phones.
The joning of Sony Ericsson Xperia and Sony PSP brands seems to be an obvious progression and will defiantly grab the attention of the PSP fans out there. With the mobile phone gaming industry now becoming the fastest growing market in the gaming world, Sony may well have a strong contender in this rapidly growing market. Looks like we'll get to see this handset in a little over two weeks.
For more details keep an eye on our updates here at mobiles.co.uk